Review: Götterdämmerung @ Bayreuth Festspielhaus
Bayrueth Festspiele - Götterdämmerung
Bayreuth Festspielhaus, Bavaria, Germany
Friday 15th August 2014
And so we come full circle. The Ring of the Nibelungen has come to an end. This resounding work, perhaps the greatest artistic achievement ever, has to be seen to be believed. This "total work of art" or as Richard Wagner put it himself, "Gesamtkunstwerk", incorporates a bit of everything artsy.
If ever you consider seeing The Ring, it is not for a first-time opera-goer or the faint-hearted. You have to know the field of opera well and build an understanding of the story and music. It's heavy-going and Wagner leaves no prisoners.
To conclude this immense story (and also my reviews!), this opera's proglogue (it's the only evening to have a prologue) sees Erda's three daughters, The Norns work vigorously on the rope of fate. Sadly, it splits and the fate of the gods and the world is sealed... an end to all things. Like at the end of the previous opera, Siegfried and Brünnhilde have honoured their relationship. He gives her the ring, she gives him her horse, Grane. He hurries off (leading to Siegfried's Rhine Journey) and the prologue ends.
Heading straight into the First Act, we are introduced to three new characters: Hagen (who is the son of Alberich), and his half-sister and -brother, Gutrune and Gunter. Hagen has devised a cunning plan, using both siblings as puppets, to obtain the ring of power. He puts it to the two of them that they could marry Siegfried and Brünnhilde. A potion could quickly finish the young hero's love for Brünnhilde and he could fall for Gutrune.
Siegfried's horn is heard nearby and Hagen calls out a chilling cry of "Heil! Siegfried, teurer Held!!!" ("Hail! Siegfried, dear hero!!!") (also the same motive for Alberich's Curse). He arrives and is welcomed, with Gutrune giving him the drink filled with the potion. He chugs and quickly forgets his beloved, falling madly in love with Gutrune (and then becoming blood brothers with Gunther). He vows to retrieve the ring from Brünnhilde (who Hagen informs him of since he has just forgotten her). Using the Tarnhelm magic helmet, Siegfried makes his way back to her, whilst Hagen guards the hall. We see Brünnhilde back on her rock, now getting a visit from her Valkyrie sister, Waltraute (all the sisters were banned from visiting her by Wotan).
"All succumb to the flames of destiny"
In a lengthy aria, she details the downfall of Wotan, urging her to give the ring to the Rhine Maidens. He asks the gods to chop down the World Ash Tree, stacking the logs high in Valhalla, so they can all succumb to the flames of destiny. Brünnhilde vows to keep the ring, and Waltraute storms off. Siegfried's horn is then heard, but being a bit of a troll, it is him disguised as Gunter. Horrified, she wonders who this man is. He forces himself upon her and obtains the ring, claiming her to belong to Gunther now. She quivers back into the cave. Siegfired takes off the helmet and vows chastity between the two of them by placing his sword, Nothung between them. This is the end of Act One...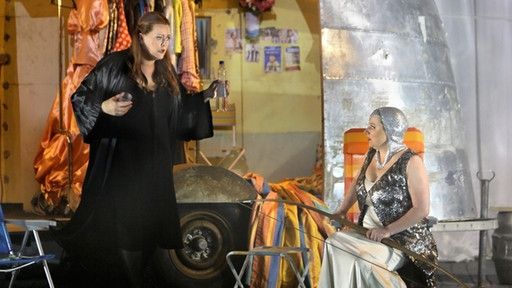 Image Credit: Enrico Nawrath
Whilst asleep, Hagen dreams of his dad, Alberich. His quest for the ring is given to his son. Siegfried returns, and, now awake, Hagen summons his vassals (also the only part of The Ring to have a chorus), in preparation for the festivities about to take place. Gunther introduces the couples, but Brünnhilde is paralysed in shock to see Siegfried there (in a totally heartbreaking moment, Wagner puts their love theme here). She then sees the ring on his finger. Confused, she was adamant Gunther took it from her. Much confusion arises, Hagen's spear being used as an honour device. Brünnhilde, Gunther and Hagen are left alone. She remains so furious over Siegfried's betrayal that she vows for his death. She tells Hagen that Siegfried's only weak spot is his back (since in bravery, he would never turn his back to anyone). In the shattering Vengeance Trio, Hagen finally knows how to get the ring. We are almost at the end...
In the final sequence, the Rhine Maidens appear, still lamenting their gold (the ring is made out of it). Siegfried arrives and they urgently request him to give it back. Telling him he will die on this day, he doesn't take heed of what they say. Hagen joins him, along with Gunther and the vassals. Resting after a hunting trip, another thick potion drink is offered to the young hero. This brings back all his memories of Brünnhilde. This is enough for Hagen to play the honour card and he pierces his spear into the back of Siegfried, as Wotan's two ravens fly off to their master. The vassals carry him back leading to Siegfried's Funeral March.
"Traumatised by what she has seen"
Gutrune cannot sleep; a concerned see-saw figure up in the night. Brünnhilde is not in her room and the hunting party arrive back with the deceased. Traumatised by what she has seen, Gutrune curses Hagen, as he squabbles with Gunther over who should have the ring. Hagen kills Gunther, and thus emerges Brünnhilde (in a supernatural moment, Siegfried's arm raises with the ring finger pointing to her). She now knows all of what has happened and obtains the ring once more. And so begins the end…
The cataclysmic Brünnhilde's Immolation (the link is to Wales' own Dame Gwyneth Jones, from Pontnewynydd, as Brünnhilde) sees her arrange Siegfried's funeral pyre, have it lit and go through how much she adored him and just how important her sacrifice is in giving up the ring and her own life. With her horse, Grane, she rides into the now-increasing flames, creating a mass of noise of destruction. The Rhine breaks its banks and the Maidens finally get the ring back, with one last attempt from Hagen: "Zurück vom Ring!" ("Give back the ring!"). They drown him, Vallhalla is set alight, and it then crumbles with all the gods inside. The old world has come to an end. Alberich's curse is lifted and so the new world begins...
-
As you can tell, this is quite a story and by far the longest part of The Ring (lasting well over four hours). It is by far my favourite part, although I do love Rhinegold also.
The Ring is stacked with exposition and nowhere is it more evident than when the three Norns sing. They go through the entire story and this is one of my favourite parts. Their mysterious and murky music makes for sturdy preparation for the last day of the Cycle. In this staging, they arrive on stage in stacks of bin bags and other homeless attire. This falls off them and they are wearing beautiful evening gowns. The rope of fate is nothing more than three straps connected to a TV in an alleyway (hard to tell what was on it).
This production had so much going on with its staging: an alleyway; a huge fire exit staircase; a back alley with the Döner kebab shop; a building covered in cloths, which was later revealed as a replica of the New York Stock Exchange; the Rhine Maidens Cadillac, which made a return; the tin caravan; and so on. It was all very impressive without going into silly modern opera mode, which can happen too often today. Take the ending: Brünhilde, wearing an awful leopard-coloured and golden dress, simply gives the ring to the Maidens and they throw it into a burning bin as Haven looks on. A simple, if disappointing Immolation.
"The cast were killer"
The cast were killer; a mesmerising troupe who stand as some of the super Wagner singers of our time. However, one could lance Ryan as Siegfried, who got some booing during his curtain call. We didn't really care when he died, but his cocky-ness as the forest youth proves that Siegfried could easily be of our time (looking like The Terminator when being Gunther).
Catherine Foster is the first English soprano ever to tale the role of Brünnhilde (in all three operas) at the Bayreuth Festival. A resounding and heartfelt job she did, as well. Oleg Bryjak was his usual self as Alberich, and Claudia Mahnke as Waltraute (and the Second Norn) was concerned and defending as Brün's sister (quite a Mezzo). Attila Jun was a nasty and Mohegan-clad Hagen with a baying sound and unpleasant presence.
"With great aplomb"
The sexy Alejandro Marco-Buhrmester was Gunther, playing him honourably with a fine sense of tone in his voice. Gutrune from Allison Oakes was a fiery and enjoyable take on the manipulated half-sister (who drove around in this stupid-looking one-seater car). The Norns (Okka von der Damerau, Christiane Kohl, along with Manke) played these miserable roles with great aplomb and memoriam. The Rhine Maidens (Mirella Hagen, Julia Rutigliano and, again, von der Damerau) were teasing, craving the ring back as they fondled Siegfried and enjoyed having a good time with him.
It takes weeks, if not months, to take in all of The Ring. The overload of music, singing, story, sets, themes and so much more can be too much. This Ring may not have been perfect, but it certainly will remain a great version for the 21st Century. What ever will director, Frank Castorf think of next?!
A totally unforgettable artistic endeavour.
Rating: 10/10
The Bayreuth Festival continues in July and August 2015 with Der Ring des Niblungen; a new production of Tristan und Isolde, directed by Katharina-Wagner (Wagner's great-granddaughter); Der Fliegende Holländer (The Flying Dutchman); and Lohengrin. Tickets - by ballot - are available to order online from Monday 1st September 2014.
Want to win a Sprout T-shirt? Fill in theSprout Satisfaction Survey!
*************************************************************************************************************************
Related:
Articles » Filter Articles » Reviews
Articles » Categories » Travel
Articles » Categories » Sports and Leisure
Info » Things To Do » The Arts » Gigs, Concerts, Events and Festivals
Info » Your World » Holiday and Travel
Events » September 2014: Sprout Editorial Group Meeting
*Submit your stuff for publication here*
Related Articles:
Photos Credit: Enrico Nawrath