Review: Cynyrchiadau Pluen/Flake Productions - Llais/Voice @ Sherman Cymru
An article by you.
Cynyrchiadau Pluen/Flake Productions: Llais/Voice
Sherman Cymru
Saturday 2nd August 2014
Amanda Todd's YouTube video is certainly one of the most gut-wrenching things on the internet.
The themes of bullying and rampant sexism remain very important issues, which must be grappled against the anonymous and voyeuristic nature of the web. We'd all like to think her message had made a difference, but looking at the remarks made about it on YouTube (she killed herself), I may have to reconsider.
***
Elgan Rhys and Gethin Evans (who was Assistant Director for National Theatre Wales' Mametz) have taken Todd's video and transformed the themes into a deeply personal and provocative work.
Rhys (who never says a word throughout) is the lone soul of the show, with occasional nods from the guitarist, Joshua Bowles (at one point sitting down with Rhys, playing pat-a-cake and abruptly then slapping him). Taking comfort in his laptop, he is adamant he has to please as many people as possible. Arriving in the space, in pangs of convulsive agony, this heralded in the show and made us realise we were in for a bumpy ride. He really seems to go through it here, in fleeting moments of self-torture, lost power and abused misery.
Clad in a white vest and pants (I wore something very similar in Puffall), Rhys is faultless in his portrayal of a vulnerable young man, who doesn't seem to know what he wants, but sure knows how he will get it. His sexuality is ambiguous and his confidence only ever present in pleasing and amusing us, the audience (him insisting an audience member slap him and then the shock by the outcome spoke volumes). Todd's now-famous queue cards, utilised here at the very end for a Brechtian flourish (as we read his messages on the screens via the webcam) made me realise why we were here: because a young girl had killed herself because of bullying and other despicable behaviour.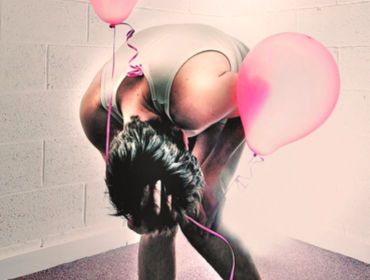 For some 40 minutes, this piece created a relatable but slightly austere and shocking atmosphere. I could also easily see this becoming the second half of an evening's show. What the other half would be, leaves me befogged.
We shall have more good things from this company.
Rating: 9/10
Llais/Voice tours to The National Eisteddfod of Wales, Maes in the Drama Hut on Wednesday 6th August, then on to the Edinburgh Fringe Festival, theSpace @Surgeons Hall from 11th to 23rd of August.
Want to win a Sprout T-shirt? Fill in theSprout Satisfaction Survey!
***********************************************************************************************************************
Find Similar:
Info/Advice » People in Your Life » Communication and When Things Go Wrong » Bullying
Info/Advice » Health » Emotional and Mental Health » Suicide
Organisations » Cardiff Against Bullying
Organisations » Families First
Related Articles: